MacUncle Data Wipe 1.0
MacUncle Data Wipe is an excellent utility for Mac users. Before selling, permanently delete any undesired data from the system. Using the tool's Add option, you can delete single or many files/folders from the system. To wipe data from your Mac, choose any wiping method that allows you to undertake a thorough erasure procedure without any limits. As the application executes non-retrieval erasure, users are permitted to choose a filter option before the deletion takes place. Before wiping your Mac's data, set up a filter. To delete the data from the system, the Tool uses a zero-filling process. Different data wiping methods are available, including Zero, Random, Random & Random, Zero & Random, WipeFile- Medium, US Navy RLL, US DoD/US Air Force, US Navy MFM, Microsoft Cipher, WipeFile - Secure, Bit Toggle, NATO – Standard, and Peter Gatmann. All of the aforementioned wipe methods accomplish various types of deletion. To have a better understanding of how Data Wipes for Mac works, try the trial version. Delete 10 files that are less than 5 MB in size. All of the features featured in the Profession package are available in the Demo version. After that, upgrade the Mac to delete all data without any pauses. All recent editions of Mac OS X 10.8 Mountain Lion and higher versions are compatible with the app.
Download MacUncle Data Wipe 1.0
Sponsored Links

Product Info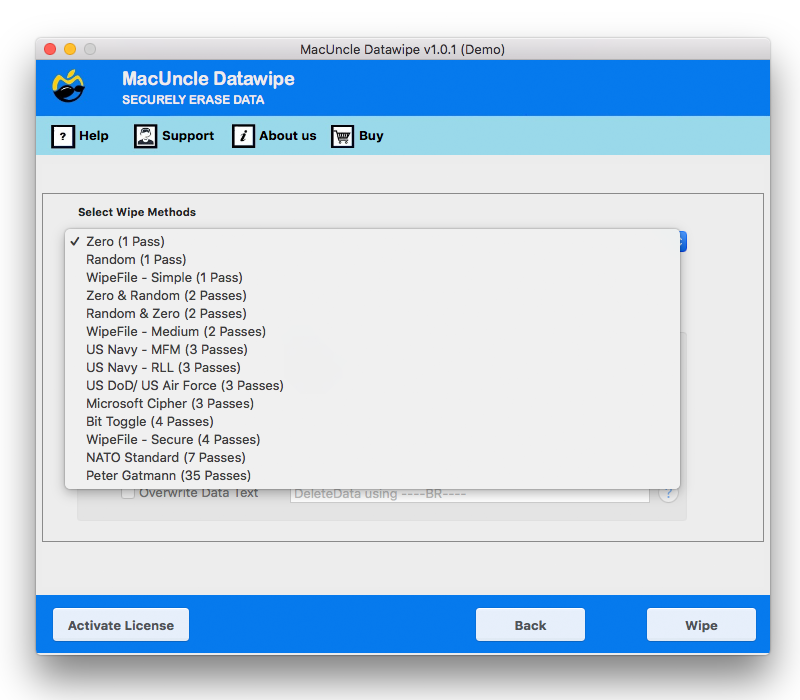 Download MacUncle Data Wipe 1.0
Publisher: MacUncle
Size: 6.8 MB
OS: macOS 10.15 Catalina, 10.14 Mojave, 10.13 High Sierra, 10.12 Sierra, OS X 10.11 El Capitan, 10.10 Yosemite, 10.9 Mavericks, 10.8 Mountain Lion, etc.
Install: Install and Uninstall
Sponsored Links